Financial Management With Odoo: Automate to Ease the Burden
At the center of every company, there is one main thing happening: cash flow. Every company needs to track income, expenses, also all the taxes collected to be sent to the government. As a result, an effective accounting and financial management system is essential for businesses of any size or kind. Automation in tasks like bookkeeping, generation of financial statements, summing, and reporting of financial transactions can increase efficiency in the overall business process and help your business reach a new height. Now, let's dive deep into the features of Odoo and find what the platform offers to ease your finance and accounting management.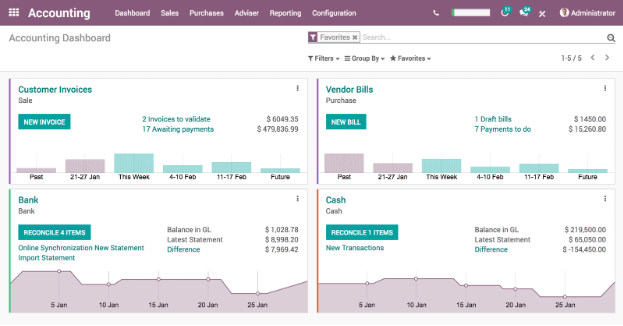 Odoo comes with a fast, modern, and responsive user interface - instantly accessible through any device.



With Odoo, you don't need to create invoices manually, print and send them, register bank statements, follow up payments. Automate these tasks and save your precious time



You can reconcile a payment with several invoices using a button on the payment form. And, you can get your bank statements automatically synced with your bank. Odoo saves time with automated reconciliation.



With the configuration progress bar, It's easy to carry out the initial setup in Odoo. You can follow what interests you and get automatic alerts, and collaborate on documents easily.



With Odoo, it's easy to create beautiful and full-featured invoices. Odoo also supports multiple payments for one invoice, cash discounts, advance invoice, partial reconciliations.



Odoo automatically creates draft invoices based on sales orders, timesheets, or delivery orders. In addition, when creating an invoice, Odoo suggests outstanding payments automatically so that you don't have to reconcile it later.



In Odoo, you can compare the information appearing on the Purchase Order, the Vendor Bill, and the Receipt to make sure you pay the correct bill.


Track employee expenses, from the recording by every employee to the validation and reimbursement. And, you can also get a clear forecast of your future bills to pay.



You can make good use of features like bill digitalization. Now, you can upload your scanned PDF or image format files to vendor bills, and let Odoo automate their creation with Artificial Intelligence.



Odoo supports all credit cards and any payment gateway available in your country. Customers can also scan a QR code with their banking app to pay. The QR code is placed on PDF invoices and shows up in the payment screen of quotations and invoices.



Ease your credit collection process with automated follow-up features as Odoo proposes emails, follow-ups letters, and tasks automatically. Besides, Odoo allows your customers to track their order status, invoices, and payments through their portal.



With Odoo, you can get clear reports on customer statements and navigate easily through the documents to understand every customer use case.



Also, the aged receivable report gives you a clear overview of overdue payments and treasury forecasts.



Get a proposition of supplier bills to pay ad print checks in batch in just a few clicks. You can also keep track of deposit tickets in just a few clicks to ease the bank reconciliation process.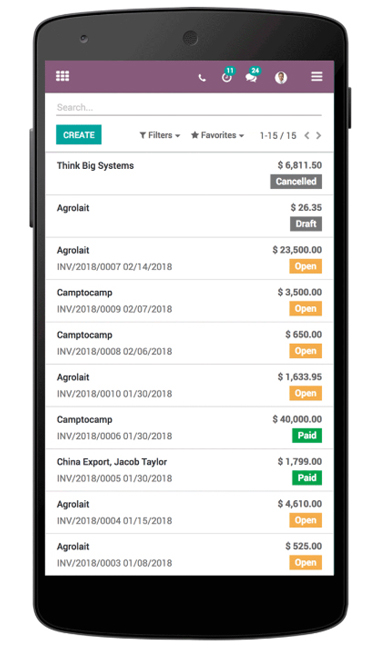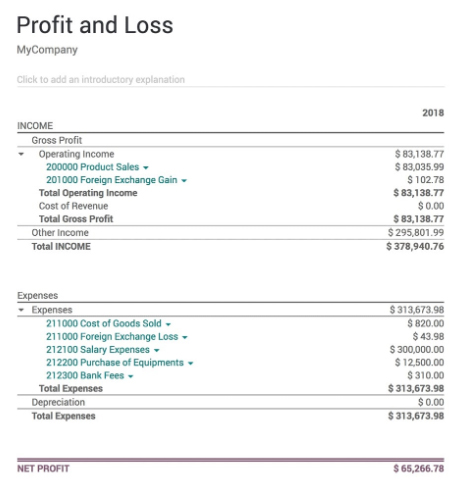 With Odoo, you can automate payments to suppliers based on propositions by Odoo itself to pay at the right time. You can also organize payment orders and support your payment flows with optional validation steps.



The smart reconciliation tool within Odoo helps you get reconciliation proposition automatically, register extra journal items on the fly, and search efficiently. There is also an interface for manual reconciliation - for both open and paid invoices.



Odoo is capable of learning account numbers based on first manual reconciliation and it matches 95 percent of invoices and payments automatically and the smart matching tool allows to do the remaining five percent super fast.



Odoo allows you to get partial and full reconciliation propositions directly from the invoice or the bank statement. Also, Confirmed online transactions create a payment for easy reconciliation. They also show up as notifications in the document's chatter for easier follow-up.



You can also make good use of Odoo pivot tables to navigate through the information: consolidations, drill-up/down, group data, filters, etc. Multiple standard reports are available - Profit and Loss, cash flow statements, cash reports, executive summary and aged payable/receivables, and more. You can also export these reports to excel and pdf.



With Odoo, you can create your own dashboard by assembling custom reports. Generate reports for any time period, comparing the time period. Get dynamic calculation of certain fields and share filters and dashboards across teams.



With Odoo, track assets, depreciation boards and generate amortization entries automatically. Manage all events on your assets in just a few clicks. Manage multi-year contracts, automate deferred revenues entries, and get clear dashboards on your recurring revenues within the accounting module.
---
Integration

You can make the most out of Odoo by integrating the Accounting module with Odoo's Sales, Inventory, Purchase, eCommerce, Customer Portal, and other modules within the platform.
---
Odoo is a one-of-kind platform with all the necessary tools to run your business process smoother than ever. As it comes with an extremely affordable price, you can't really go wrong giving it a try.