Warehouse and Inventory Management with Odoo Business Suite
Whether it's a large corporation or a small enterprise with a few employees, warehouse and inventory management is an integral part of day-to-day business operations. When to refill your stock and how much to produce or purchase, when to sell and at what price – these are some common issues each business faces daily; which at times, may appear more complicated than it sounds. However, there are tools – commonly known as ERP software – to ease the process of inventory management. And we recommend you to choose Odoo – the best open-source suite of business applications – that comes with a diverse array of tools and applications to fulfil the needs of all business verticals.
Let's take a look into Odoo's inventory module features and see what Odoo offers to ease warehouse and inventory management.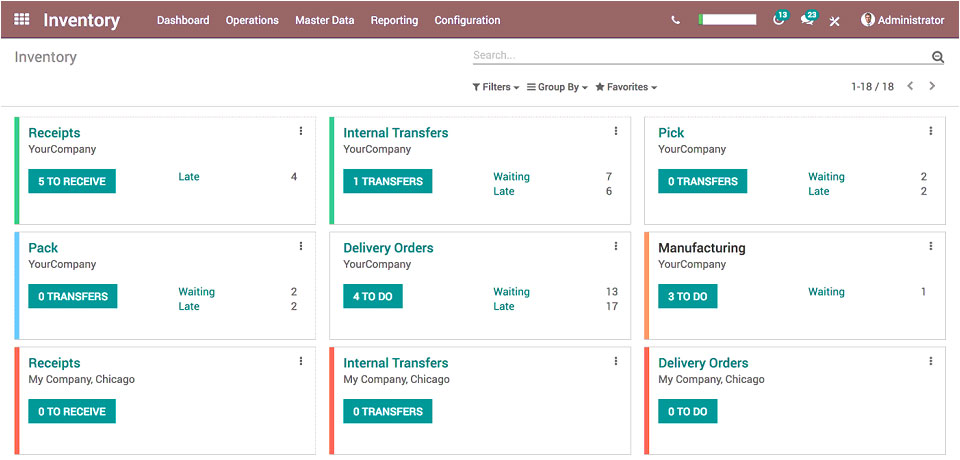 A clean and easy to navigate dashboard


The dashboard gives you an overview of all activities: delivery orders, transfers, pending receptions, and more.
You can get alerts or review backorders and late items at a glance.
The inventory module comes with a predefined dashboard, and you can also build a custom one based on your needs.
The fast user interface – designed for modernizing the inventory management – gets more work done with less effort.
Increased Productivity


The barcode interface supports any workflow and barcode scanner hardware – Wi-Fi, Bluetooth, or USB.



To pack some products, you can scan the delivery order document, scan a few products then scan a unique code to add your products to pack and the system automatically prints the shipping label for you.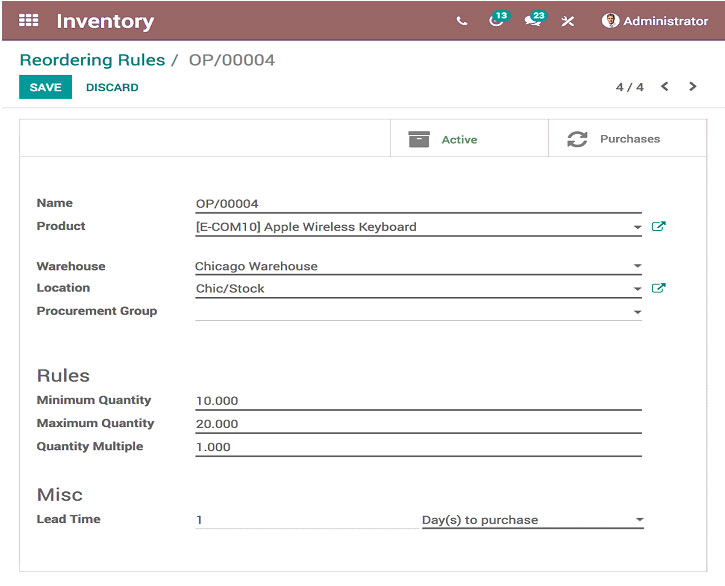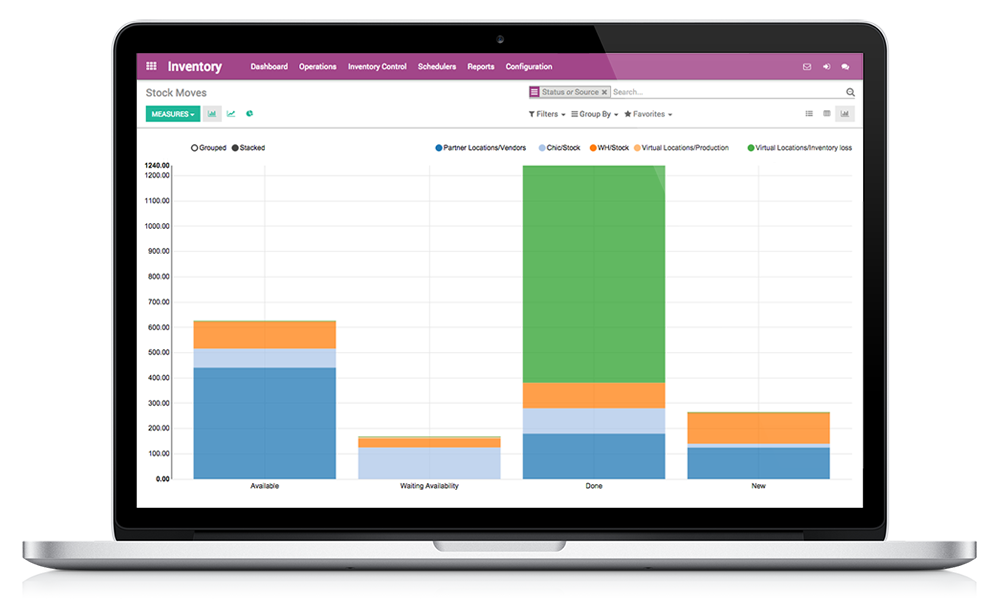 Real-time Reports

The inventory module keeps you informed with real-time dynamic reports.



Get inventory forecast based on sales orders, purchase orders or manufacturing orders as well as internal moves.



With Odoo, you can share these reports with your team members and take effective decisions on time with precision

Success Story

Florida Iron Door – known for its custom doors with a background in construction – began operation in 2013. The company found immediate success and maintained a gradual growth. But the progress brought new challenges. It became difficult for Florida Iron Door to manage its inventory with spreadsheets and non-integrated software systems. The company was looking for a powerful integrated system to handle its business process. And, they found Odoo a good fit.
When looking into different options available, they tried hosting Odoo on their own server and customizing it in-house. Eventually, they ended up with Odoo Online and made the best decision of purchasing a Success Pack with implementation.
Now, they have an integrated flow, from keeping track of leads, prospects and customers with the Odoo CRM, to managing quotations and invoices with Odoo Sales and Odoo Invoicing, maintaining their stock levels with Odoo Inventory, and their finances with Odoo Accounting.
Integrate & Make The Best Out of Odoo
Check out the wide variety of business applications inside the Odoo platform
Odoo is an excellent open-source alternative for businesses aiming for new height in terms of growth and scalability. The open-source suite of business applications is what you want if you're looking for a comprehensive and all-in-one solution to your business needs.
Ergo Venture is the top Odoo silver partner in Bangladesh with expertise in Odoo implementation across many verticals. To learn about Odoo Sales module pricing and implementation.