Operations Management With Odoo: Do More, in Less Time

If you run a company, you're reacting to hundreds of unforeseeable incidents every day. These incidents all require your staff to take action so that operations can continue to run smoothly. However, they often have to make these decisions in isolation. Information is stored in different systems by different departments. People have to enter and re-enter data in multiple places or send information requests that take up time and disrupt their colleagues. Sometimes this is not an issue, but sometimes it is. Wouldn't it be great if all your people were working together in sync instead of on their own? Break down the barriers keeping your team from achieving peak efficiency with an integrated enterprise resource planning solution that lets you manage your entire operation in a single platform.
Odoo is an open-source business management software that comes with cutting-edge tools and modules to speed up the business management process, ensuring maximum efficiency. Odoo's Accounting, Project, Human Resource, Inventory, and Manufacturing modules fall under the operations management category. Since we have separate webpages and write-ups on Odoo Human Resource, Manufacturing, and Inventory, let's take a look at the other three modules and see what they offer.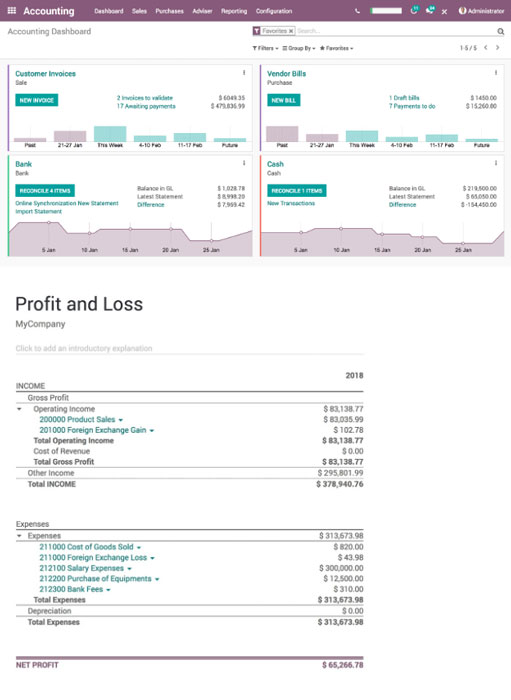 Odoo Accounting


Odoo Accounting comes with a fast and modern interface, which was designed based on Google material design trends.



With Odoo, you can automate creating invoices, printing and sending invoices, and more. Automate more and save time.



Get your bank statements automatically synced with your bank. Save time with Automated reconciliation.



Get instant access to all accounting features, wherever you are, on tablets or smartphones



The accounting module automatically creates draft invoices based on sales orders, timesheets, or delivery orders.



When creating an invoice, Odoo suggests outstanding payments automatically so that you don't have to reconcile it later.



The accounting module supports online payment with credit cards, and payment gateways like Authorize.net, Ingenico, Paypal, Adyen, etc



Odoo proposes emails, follow-ups, letters, and tasks automatically to ease your credit collection process.



Compare the information appearing on the Purchase Order, the Vendor Bill, and the Receipt to make sure you pay the correct bill.



With Smart Reconciliation Tool, automate 95% of reconciliation.



Use the Odoo pivot table to navigate through the information: consolidations, drill-up/down, group data, filters, etc. Multiple standard reports are available - Profit & Loss, cash flow statements, cash reports, executive summary and aged payable/receivables, etc.
Odoo Project


Drag and drop tasks easily with the kanban view, and you can also create tasks from sales orders.



Create subtasks to manage the relationship between multiple tasks.



Manage tasks on a timeline with the Gantt chart view - the easiest way to track deadlines and timeline progress.



Get graph charts to analyze the progress of your tasks: by stage, by the responsible person, by tag, by project, etc.



Use triggers and automated actions to send automatic emails on different statuses: confirmation of ticket, customer satisfaction survey, etc.



Every project can have its own email address. Create tasks or issues by sending an email to the project.



Chat online with other users to get real-time answers to your questions. Use discussion groups to chat in tasks.



Use the etherpad integration to collaborate on tasks in real-time with several users contributing to the same content.



Schedule your teams across projects taking employees' holidays into account. Plan for upcoming projects with forecasts based on comparable projects and estimate deadlines more accurately.



You can compare forecasts with real timesheets for increased profitability.



Use predefined dashboards or build your own with the advanced reporting engine.



Get statistics on your tasks to analyze the performance of your projects.



Get the most critical information of your project at a glance: time spent, time forecasted, rates, billable hours, etc.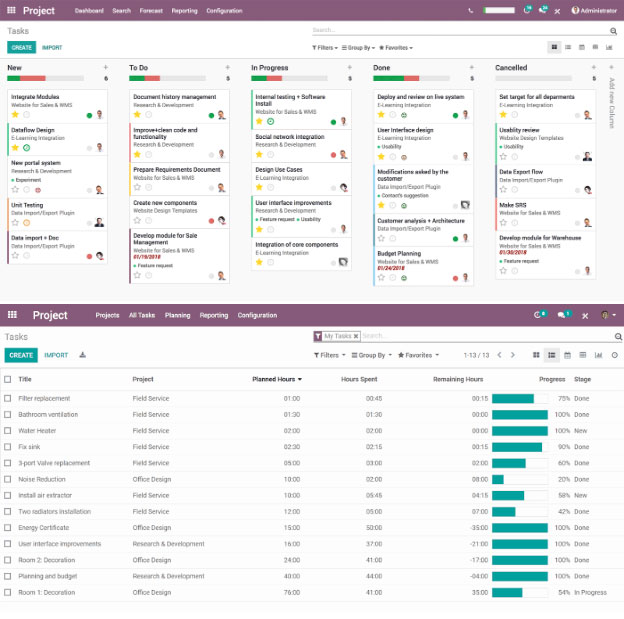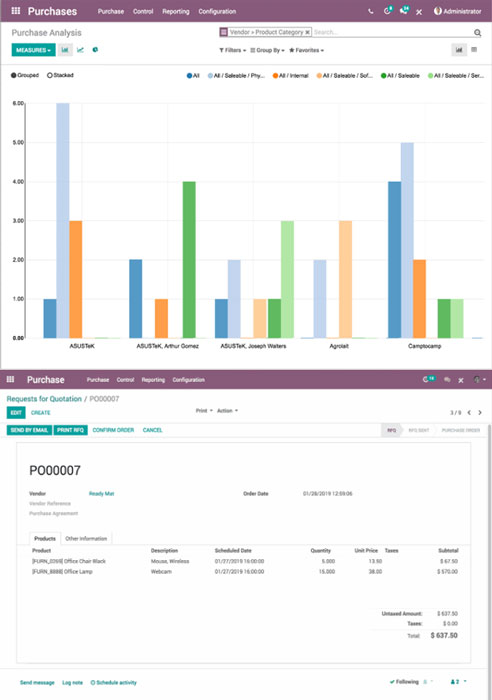 Odoo Purchase


Odoo Purchase allows you to send RfQs to your suppliers automatically to make your purchasing workflow automated.



You can improve your purchase and inventory performance with procurement rules depending on stock levels, logistic rules, sales orders, forecast manufacturing orders, etc.


Select separate replenishment methods for each product based on manufacturing and delivery strategies.


You can import suppliers' price lists and references with ease, which allows making smarter purchase decisions based on promotions, quantities, and special contract conditions.


With Odoo, you can keep track of product availability in your supplier's stock and check your order status within the app.


You can bag the best price by negotiating with several vendors using purchase tender.


Launch purchase tenders, integrate vendor's answers in the process, and compare propositions.



Choose the best offer and send purchase orders easily. Use reporting to analyze the quality of your vendors afterward.



The Blanket Order Agreement is another excellent way to buy goods from a supplier at a negotiated price on a recurring basis during a specific period.



Get accurate statistics on your suppliers' performance through flexible reporting: delivery delays, negotiated discounts on prices, quantities purchased, etc.



Use a single Odoo instance to synchronize operations between different companies or warehouses. Create sales orders, share customers, suppliers, and products, and manage invoices for all companies at the same time.



With Odoo, you can save even more time by automating the invoicing process between all the companies!
---
Integration

Integrate and make the most of Odoo - Check out the wide variety of business applications inside
the Odoo platform
---
Success Story

Inspiral - a small company with high ambitions - is trying to make a difference by providing innovative solutions and making wheelchair users' life more comfortable. They started using Odoo from the very beginning, as they needed something easy to access and efficient at the same time. They wanted to centralize their customer database, which would be linked to their order, purchase, and accounting system. And, when they found Odoo and they immediately realized that it was the perfect solution to meet their needs. Currently, they use CRM, project management, sales management, accounting and finance, warehouse management, and purchase management modules. The company found a dramatic reduction in the time consumed for administrative processes soon after they became completely functional in Odoo. Inspiral is extremely pleased using Odoo and recommends it to anyone in similar needs.
Odoo is an excellent open-source alternative for businesses aiming for new height in terms of growth and scalability. The open-source suite of business applications is what you want if you're looking for a comprehensive and all-in-one solution to your business needs.