For small businesses and large corporations alike, the human resources department is the key to success. More than handling recruitment or payroll, the HR department helps improve company morale, develop methods to ensure high-performance standards, and can help resolve conflicts among employees. These are some of the reasons why HR is so crucial for success. And, Odoo – a comprehensive suite of business applications – is here to help manage all your HR operations with ease.
HR software, in general, combines numerous HR functions – such as storing employee data, employee relations, payrolls and benefits, recruitment processes, benefits administration, and record-keeping. It makes your day-to-day Human resources processes manageable and easy to access.
Odoo – an open-source platform – aims to offer maximum flexibility when it comes to managing your business. Based on your company needs, you can install the following HRM modules capable of handling almost every scenario for your employee management.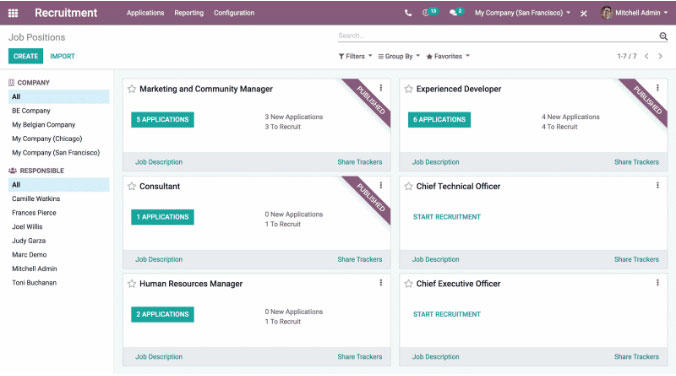 Odoo Recruitment – Makes the Hiring
Process Easy
Customize your recruitment process with Kanban view



You can post job offers on your website and follow the application process within the Kanban view.



Manage a pipeline of candidates and get accurate statistics on your pipeline



Automatic indexation allows you to create a repository of all your applicants – well-organized and instantly accessible



Schedule interviews and send meeting invites directly from Odoo and synchronize your Odoo calendar with Google Calendar.



Keep track of all your applicants and manage everything from application emails to automatic answers right from the app.



Send online offers to selected candidates and let them review the proposal, upload personal information, and sign the offer.
Odoo Employees – Store and Manage Employee Information with Ease
Store and keep track of all information concerning each employee in one place.



Restrict visibility of sensitive information just to HR managers and make other information public for all employees.



Keep track of employee's working hour sorted by project, client, or tasks



Evaluate employee performance with a customized evaluation process.



Automated processing saves you from administrative tasks and allows you to focus on people.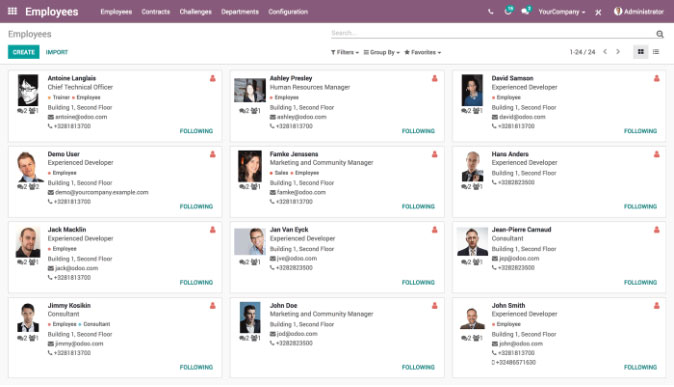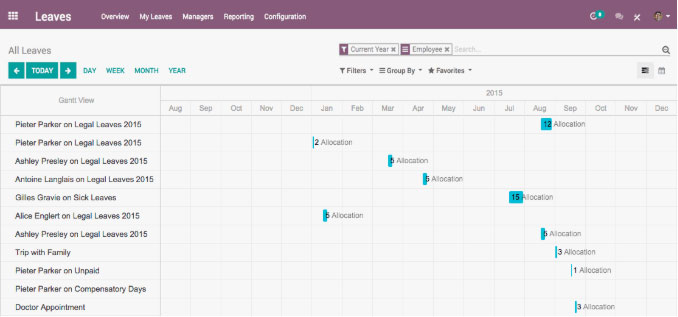 Odoo Leaves – Manage and Keep Track of all Employee Vacations and Absence


Odoo Leaves offers a beautiful dashboard for employees to see their own account, managers for their teams, and administrator for the whole company



Odoo allows your employees to record requests themselves and get notified for each new request.



The leaves module comes with different buttons to respond to your employee requests in just a click.



Insert notes to your approval or refusal for your employees.



Create new types of leaves for unusual situations and allow managers to deal with requests of their team.



Get stats on the number of leaves per capita, per department and leave type, and export them in PDF in just a click.
Odoo Expenses – Manage Employee Expenses Online
Odoo has made managing your employees' daily expenses more accessible than ever with desktop and mobile versions.



The Expenses module allows your employees to record professional spending for a defined period, for events, travels, and more.



Add attachments to expense records to provide proof of expenditures.



Employees can submit the draft of expenses to managers for approval.



Managers can review employee's records and requests to validate or refuse with comments and explanations.



Odoo displays a preview of receipts next to the expense request to facilitate the approval process.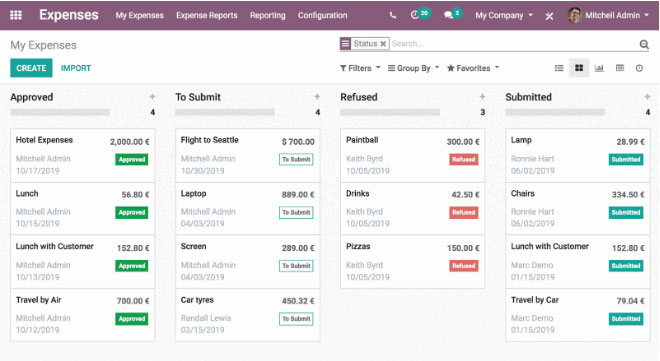 Odoo Appraisals – Create Appraisals in Minutes & Review Employee Performance


Odoo allows you to set up several appraisal plans for each department.



Filter and sort appraisals by employee, status, deadline, appreciation, and plan name to get a clear overview of evaluations.



With Odoo, design surveys quickly using existing templates or design your own custom survey from scratch.



The Appraisal module allows you to turn existing surveys into templates to reuse them.



Make the appraisal process automated with Odoo and send requests for evaluation to employees according to the pre-defined schedule and evaluation plan.
Odoo Fleet – Easily Manage Your Company Vehicles


Quickly identify each vehicle with an in-depth description such as brand and model, registration number, chassis number, number of doors and seats, color, etc.



Odoo allows you to keep track of the vehicle's mileage and remain updated with servicing and repairing forecasts.



You can keep records of every refill for each vehicle to monitor fuel consumption. And, you can also link each car to a specific fuel card to record transactions automatically.



Odoo's Fleet module allows you to record all costs related to your fleet in a clear and in-depth report. Also, you can create a custom report based on your requirements.



A beautiful dashboard with live reports and graphs gives you a clear overview of all your vehicles.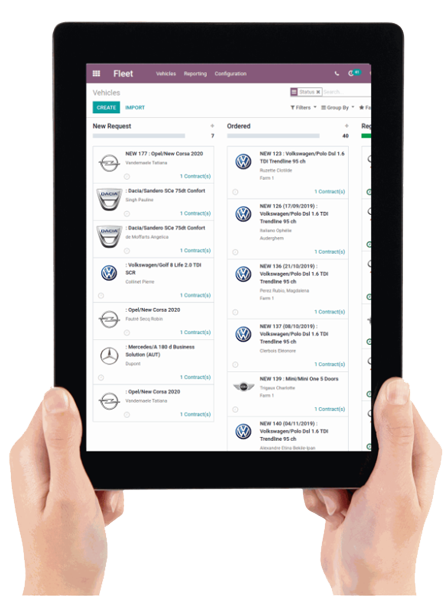 ---
Integration

Make the most out of Odoo by integrating HRM modules with other business applications inside
and outside the platform
---

Odoo is an excellent option for businesses that are aiming for new height in terms of growth and scalability. The open-source suite of business applications is what you want if you're looking for a comprehensive and all-in-one solution to your business needs.