Manufacturing Resource Planning With Odoo: All Your Needs are Met Out of the Box

To transform raw materials into final products, many manufacturers use as many as ten different applications. With each department using a different software solution, keeping everyone on the same page isn't easy. Besides, the cost of maintaining all these applications is very high. This can be far too expensive and time-consuming for companies with limited resources.
If you're looking for something that can be managed easily with the lowest possible cost, we recommend you opt for Odoo. Why? Well, Odoo - an open-source suite of business applications - is nothing less than an all-in-one solution for your business, with a reasonable price.
In Odoo, all manufacturing applications are integrated into a single solution while keeping it modern and uncomplicated. You have MRP, quality, maintenance, as well as PLM, inventory, and purchasing, all together in one single platform. Let's take a look at the features each of these applications offer and how Odoo can be a perfect fit for any company in the manufacturing industry.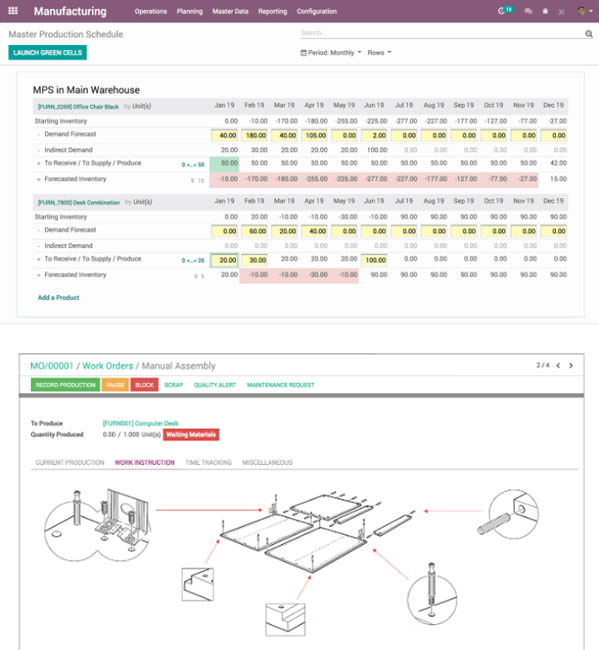 MRP
The Odoo MRP allows you to plan manufacturing orders automatically using the master production schedule.



The master production schedule automatically creates manufacturing orders based on demand forecasts, stock on hand, and indirect demand.



This feature allows you to prioritize manufacturing orders to schedule work in the future.



You can review the schedule and adjust it manually if needed.



Check your work center capacity in a single click.



Workers can use tablets on the shop floor to record production, check worksheets, track time, and more.



The work order is perfectly integrated with worksheet instructions.



The Odoo IoT box allows you to connect tools and machines to the work center control panel to automate measurement machine setup or work instructions.



Any device - such as printers or barcode scanners - can be connected and integrated.



With Odoo, you do not need any stopwatch, as the work is timed automatically. Odoo uses this measured time to schedule future orders accurately.



Workers can flag an order as blocked if anything goes wrong, which triggers a quality alert maintenance request or record scrapped units if needed.



Any error will directly notify the right department. This helps you track any mistakes and makes production more efficient through better communication between all the teams involved in the global manufacturing process.
Quality
The quality department can review the quality alert and track the status of investigations.


Dynamic reporting features help spot trends and conduct root-cause analysis.



You can define quality control points to make sure that each piece of the product reaches quality standards.



The Kanban view is excellent for keeping the quality team organized and keep track of your investigations.



You can get the alert about a failed quality check in the dashboard.



You can set up preventative actions like quality control points, alerts for the manufacturing department, or engineering change orders



If there is any problem related to the manufacturing process, the engineering department can create an ECO to fix it.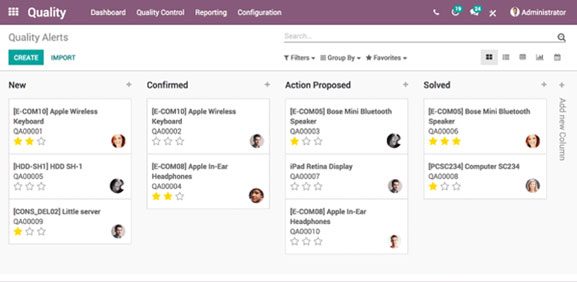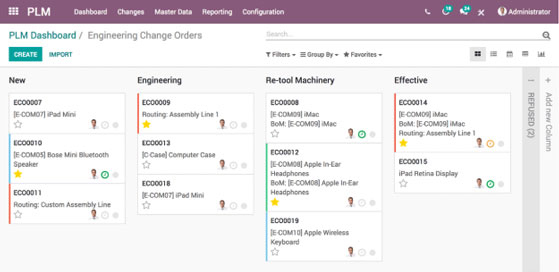 PLM
With Odoo, it's easy to create and manage ECOs. The system tracks different versions of BOMs and routings.


You can attach CAD files and other documents and quickly review changes to the BOMs.



The PLM makes sure that the ECO is approved by the relevant department at each stage of the implementation process.



It's easy to manage each new version of your BOM or routing, and with Odoo, you can easily differentiate or merge these documents.



You can also view the structure of the BOMs by opening each component and considering all the details, such as operating costs.



When the ECO is deployed, you can check the first pieces produced with a quality control plan.



Set up a new control point, and the workers will receive instructions on their tablets, thanks to the integration of Odoo apps - optimizing your whole process is easy.
Maintenance
Odoo manufacturing is fully integrated with maintenance and repairs. You can plan and track preventive and corrective maintenance on all your assets from a simple dashboard.



From the maintenance Kanban, you can quickly prioritize and schedule incoming maintenance requests.



You can select a ticket, assign it to a technician, schedule it, and move the ticket to the next stage. Then you can review the whole maintenance schedule on a calendar.



The dynamic reporting helps you manage your maintenance team more efficiently.



You can quickly get a cost report on a manufacturing order. Time and material costs are used to calculate the cost of the order automatically. And total traceability is just a click away.



Odoo computes Overall Equipment Effectiveness automatically by tracking working time and block time.



You can view OEE reports on each work centre to find where you're losing the most time.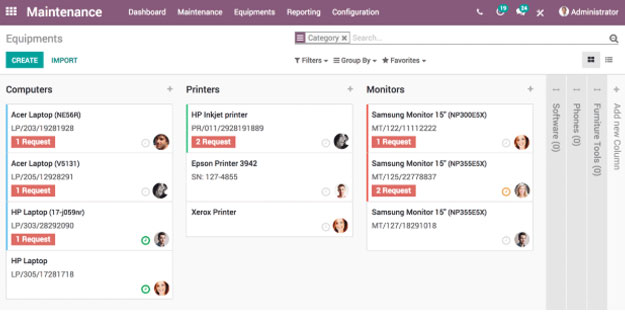 ---
Integration
Since Odoo manufacturing is fully integrated with all Odoo apps such as inventory, purchase, and sales,
you can keep everyone in your supply chain on the same page.
---
Success Story

Alta Motors - a California-based Original Equipment Manufacturer - grew rapidly since its inception in 2010. The venture of four passionate people turned into a leading electronic motorcycle manufacturer in a quick time. As the company grew, they felt the need to take the business to the next level and therefore needed a system that could help manage its operations. They were seeking a system that they could start using correctly and as quickly as possible, and Odoo was able to deliver. After implementing Odoo, Alta Motors, which became a team of 50 people by the time, was able to manage everything with only two people responsible for ERP and MRP. It was impressive for a company with a complex product and serving a nationwide dealer network. As it is very easy to train people in Odoo, in just three months, they were able to become completely functional in Odoo. Currently, Alta Motors is using Odoo CRM, Sales, Purchase, Inventory, Accounting, Invoicing, Manufacturing, Project, Studio, and Expense modules to run their company with utmost efficiency.
With a robust set of features that work out of the box and a user-friendly interface, Odoo aims to cover every software need of your manufacturing organization. Don't just waffle on this, give it a try.